7 Easy Ways to Stay Fit on a Business Trip
No matter how organised or motivated you are, sustaining your fitness routine and focus while travelling on business can be a challenge. Business lunches, exhausting train journeys, and limited fitness facilities can throw you off schedule, and leave you feeling sluggish, tired, and out of shape. Whether you're training for your fifth marathon or just wanting to feel more energised, our tips will help you stay healthy, fit, and fresh next time you're working on the road.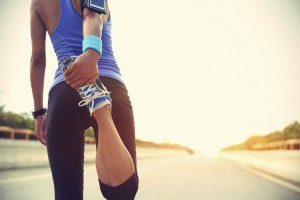 Pack your running shoes

Maintaining your fitness while you're away doesn't need to be complicated, or expensive. Pack a pair of lightweight running shoes, perfect for a brisk walk, jog, or run. This can also be a great way to explore your new surroundings and get your bearings for the rest of your trip.
Prepare your meals in advance

A business trip can be an indulgent affair, with three-course evening meals and business lunches throwing your nutrition off track. Invest in a couple of Tupperware boxes and, when possible, prepare a balanced meal in advance. Not only will you feel more energised, you can save yourself the time and effort of cooking or ordering an evening meal after a long day.
Find the nearest gym

Many hotels and serviced apartment blocks have on-site fitness centres. If this is the case – use it! Otherwise, most city centres have multiple pay-as-you-go gyms, where you can purchase day passes. These are usually cheap, and often include classes.
Pack your own gym

If you don't have time to hunt down a gym, pack your own. Skipping ropes, resistance bands, and a yoga mat are all the tools you need for a time efficient workout. A 10-minute circuit can get your heart pumping and be as effective as half an hour on the treadmill.
Stay hydrated

With so many things to think about, it's easy to forget to drink enough water. Aim to drink a glass of water every hour, and avoid caffeinated or alcoholic drinks, which will only dehydrate you. If you've got a long journey ahead, pack a water bottle so that you're well-prepared and can avoid paying over the odds in train station convenience stores and coffee shops.
Be an early bird

It's hard to find the motivation to exercise at the end of a long and hectic working day. Difficult as it might be, an early-morning workout will set you up physically and mentally for the day ahead. Not only will you feel more alert and productive, you'll get a great boost from having achieved something before breakfast.
Don't sweat it!

Staying mentally balanced is as important to your health as physical fitness. Life on the road can be stressful and will compromise your usual routine. If you can't find the time or energy for your regular workouts, just go with the flow and enjoy the time out. You'll have all the time in the world to get back to it once you're back on home turf.