How to Follow the Rio 2016 Olympics on the Go
The Rio 2016 Olympics are underway and the spirit of the Games has swept across the globe. Whether you're travelling for business, or enjoying a city break, you don't have to miss out on the action. Here's 5 ways you can enjoy Rio 2016 while you're on the move.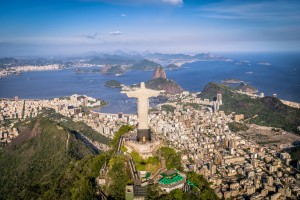 Stream the games live through sports streaming apps
Thankfully we live in an age where there's an app for almost everything, and Rio 2016 is no exception. The Olympics Official App is free to download and lets you to track your favourite sports and athletes; search for Olympic results and records by Games, sport, and country; get the latest news and schedules from Rio 2016; and, re-live the best moments from past Games. 
Watch the action live on TV
True to the international spirit of the Olympics, the Games will be televised live in 47 countries so you can cheer on Team GB from the comfort of your serviced apartment. However, this medium might be reserved for the more devoted spectators, since the Games will be broadcasted live on Brazil local time.
Catch all the highlights on the official Rio YouTube Channel
If you don't have access to a TV, worry not – the official Olympic Channel on YouTube will be updated daily with highlights, interviews, and live videos. Learn about your favourite athletes' journey to Rio 2016, or look back on past Games, and revel in Team GB's greatest moments of glory.
Track live updates on social media
Perhaps you're tied up with business meetings, catching flight connections, or preparing your quarterly reports. If streaming videos from Rio 2016 isn't high on your list of priorities, you can keep informed by following official accounts on Facebook (Rio 2016), Instagram (@Rio2016), and Twitter (@Rio2016), and join in the discussion with other fans from around the world.  
Call in sick, pack your bags, and catch the next flight to Rio
Of course, if apps, videos, and tweets just don't cut it for you, there's always the option of cheering on Team GB in the stands of Barra Olympic Park. Sure, it might not be the cheapest option, but it's undoubtedly the best.'