Life on the Road: Top 10 Practical Tips for Business Travellers
Love it or hate it, life on the road can be a necessary part of doing business. Here are our top ten practical tips for making business travel as stress-free and pleasant as possible.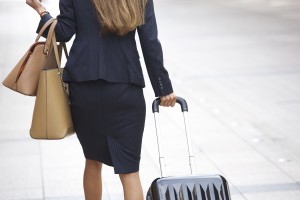 Keep ailments at bay with a bottle of hand sanitizer. As well as cleaning your hands, give your tray a wipe on the train or plane before eating.
Your health is your wealth, so eat smart. Prioritise protein over carbs to stay fuller for longer, and carry a refillable water bottle. Pack your own snacks from a supermarket to avoid steep prices at kiosks and convenience stores.
Game, Set, Massage! Soothe tight muscles and aching joints by massaging them with a tennis ball. Strange as it might sound, you'll thank us later!
Recharge your batteries. Make sure that all your electronic devices are charged the night before to avoid the 1% scramble to a plug socket.
Eat like a local. Before you arrive at your accommodation, request a selection of delivery menus for when you check-in.
Grow your network. Use your next business trip as an opportunity to meet people from social media and potential leads in new locations. Face-to-face meetings remain the most productive form of communication in business.
Cultivate a habit of caution. Be prepared for mishaps and accidents by packing a mini first-aid kit.
Go off track. Take a break from business and dabble in some sightseeing. Find out which attractions or events are nearby before you leave, and make the most of your time in a new city.
Failing to prepare is preparing to fail. Organise your documents several days in advance, and scan and send a copy of them to your email address. Simply print them off at your accommodation or an internet café should you misplace them during your trip.
Smile and the world smiles with you. Simple as it sounds, a smile can go a long way. Make it your mission to bring a moment of happiness to someone's dreary commute.