London Lunch Break: The Ultimate Guide
It's time to ditch the squashed, soggy sandwiches and the boring microwave meal in a mug and reclaim your lunch break. With so many irresistible choices on offer across the capital, your weekdays are going to start tasting a whole lot better…
Best for Value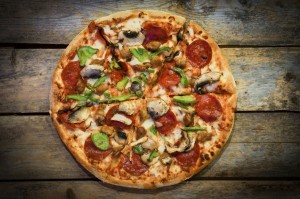 Ecco Pizza and Coffee – Waterloo, Holborn, Westminster/Victoria
With made-to-order pizzas priced from £3.50 to £6.00, Ecco is a hidden gem with a loyal following on the lunchbreak circuit. Time your visit well – late arrivals will find themselves at the back of a very long queue, but don't be deterred; these wood-fired wonders are well worth the wait!
Chequers Sandwich Bar – Covent Garden
This independent sandwich shop is a firm favourite amongst Covent Garden's office crowd, and it isn't difficult to see why. Their extensive menu means you can choose between the old classics, or branch out and customise your sarnie. The staff are impressively efficient, and even throw in a free soup of the day! 
Fernando's Café, Covent Garden
Nowhere does value for money like Fernando's. For little more than a fiver, you can expect a mountain of delicious, freshly prepared food, from seasoned chicken skewers to loaded jacket potatoes. This local favourite isn't gourmet, but then again, it never claimed to be. Its honest, hearty, generous portions of delicious food has earnt it a loyal clientele.
Best for Vegetarians
Koshari Street, Covent Garden
For simple, wholesome, nourishing bowls of flavourful food, Koshari should be your first port of call. This Egyptian street food café serves tasty bowls of lentils, rice and pasta, served with chickpeas, tomato sauce, and fried onions. If you fancy spicing things up a little, why not add some of their middle eastern salads, aromatic soups, or an authentic Egyptian desert?
Greek Expectations, Farringdon
This little blue food van delivers much more than delicious, fresh, authentic Greek food; each wrap is lovingly prepared by a charismatic chef, who entertains punters while they wait. Priced at £5 across the board, the menu has options for veggies and meat-lovers alike. The main star of the show, though, is the halloumi. Grilled to perfection and complimented by crisp salad, tangy harissa houmous, and fresh peppers, it makes for a truly unforgettable lunch break.
Kastner and Ovens, Covent Garden, Spitalfields
Veggie lovers will be spoilt for choice at Kastner and Ovens – a veritable treasure trove of fresh salads, prepared and dressed to perfection. The menu changes daily, and caters to vegetarians, vegans, celiacs, and meat eaters alike. Their offerings look as good as they taste, and are the perfect Monday-afternoon antidote to an indulgent weekend.
Best for the Health Conscious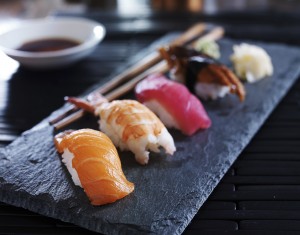 Bel-Air Salad Bar, Shoreditch
Once you've sampled a Bel-Air salad, you'll never buy a subpar supermarket Caesar again. Choose from an array of colourful, seasonal salads, tempting hot dishes, and add a protein boost of your choice – there's frittata for veggies, and tasty meat and fish choices. Push the boat out and go for one of Bel-Air's super nutritious juices, and you've got yourself a lunch that looks almost too good to eat.
Kulu Kulu Sushi, Soho, Covent Garden, South Kensington
Between the upmarket, all-frills Japanese restaurants and the underwhelming, supermarket, plastic-packed variety, the honest, unpretentious goodness of fresh sushi has been lost – until now. At Kulu Kulu, you can sample a full range of maki, ngiri, and sashimi, freshly prepared in front of you by two chefs on the other side of the conveyor belt. This is no-frills Japanese cuisine at its finest.
Farmstand, Covent Garden
For an organic, wholesome, and healthy lunch, Farmstand has you covered. With a sugar-free menu and wooden cutlery, you're assured of a guilt-free lunchbreak. Choose from a selection of wholegrain, seasonal salads, accompanied by beef, salmon, chicken, or roasted aubergine. Farmstand blows your off-the-shelf salad out of the water, with its sustainable, soul-nourishing offerings.  
Best for Street Food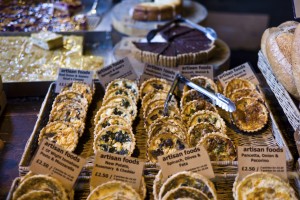 Kerb, King's Cross, various
Established to promote a diverse, independent, and exciting foodscape in the capital, Kerb does not disappoint. With several pop-ups across the city, you can excite your tastebuds with something different every day. From fresh summer rolls inspired by the street food of Hanoi, to Mother Flipper's Double Candy Bacon burger, and everything in between, Kerb serves it up in a bustling London thoroughfare near you and your office!
Leather Lane Market
At over three-hundred years old, Leather Lane Market is a veritable institution. Located a stone's throw away from Farringdon and Chancery Lane, this vibrant market will have you spoilt for choice. From pan-Asian cuisine, mac and cheese toasties, and jerk chicken, to the humble jacket potato, Leather Lane Market is a proper London lunchbreak pit stop.
Borough Market
No London market list is complete without Borough Market getting a mention. It's a landmark on every foodie's map of London, and is not to be missed. The quality of the grub on offer is unrivalled, with irresistible offerings from international producers, artisans, and street-food connoisseurs who know a thing or two about tempting in the hungry hordes. Although, you might need longer than your lunchbreak to whittle down your choices to just one unforgettable meal… So we recommend buying at least two!