Long Stay: Top 10 Serviced Apartments
When you're staying away on business for a long period of time, your accommodation is a higher priority than ever. While hotels are fine for overnight stays and transfers, serviced apartments are a better option for trips lasting longer than three weeks. Why? Because when you stay in a serviced apartment, you can enjoy a private home away from home, with kitchen facilities giving you the option to cook for yourself, and your own living space means you can truly relax and put your feet up at the end of a long day. Furthermore, you don't have to forego the additional services of hotels; weekly housekeeping and cleaning services are provided, as well as on-site concierge and reception teams.
Perhaps the greatest benefit of choosing serviced apartments for extended stays is the price: while hotel nightly rates are typically the same irrespective of the length of stay, serviced apartments have negotiable rates, which decrease as the length of stay increases. We've shortlisted the top 10 apartments for extended stays, offering you something much more inviting than middle-of-the-road, corporate accommodation.
Waddington Street Apartments, Stratford
Located in Stratford – one of the most significant business centres in the east of London, second only to Canary Wharf – the Waddington Street Apartments are central enough for you to enjoy an authentic taste of cosmopolitan life in the capital, without the restrictions on space that's typical of accommodation in The City. The Waddington Street Apartments are immaculately presented and contemporary in design. The kitchen is modern and well-equipped, and the spacious bedrooms can be furnished with either king-sized or twin beds. A 24-hour concierge team is on-hand to help. Since undergoing a complete regeneration, Stratford has no shortage of leisure, retail, and dining amenities for you to take advantage of, including Westfield Stratford City – one of Europe's largest urban shopping centres.
Trafalgar Square Apartments, London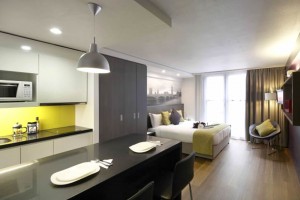 When it comes to location, few can beat the Trafalgar Square Apartments. Surrounded by some of London's world-class museums, theatres, and attractions, this grand, stunningly refurbished building is right on the doorstep of The City, and a moment's walk from Victoria Embankment. Embankment and Charing Cross stations are less than 5 minutes' walk away, while St James's Park and Green Park offer a tranquil escape from the bustle of the capital. The apartments themselves are generously sized, with contemporary décor and luxurious furniture and fittings. Each kitchen features sleek appliances, with all the mod-cons and equipment you'll need for the duration of your stay. When it comes to long-stay accommodation, the Trafalgar Square apartments balance luxury, comfort, and modern living perfectly.
Clarendon West Street Apartments, Covent Garden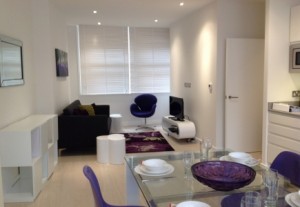 The streets of London's West End are lined with historic theatres and music halls, vibrant bars, and some of the capital's biggest nightclubs. The Clarendon West Street Apartments are tucked away in a quiet side-street, and are a hidden gem amongst the bright lights and bustle of Leicester Square and Covent Garden. Chinatown is a short walk away, as are Soho and Oxford Circus. There are multiple tube stations and bus routes nearby, quickly connecting you to London's transport network. Inside, the contemporary apartments are bright, well-sized, and fully furnished to an excellent standard. The rooms are modern and stylish, and combine home comforts with modern, city living.
Vizion South Apartments, Milton Keynes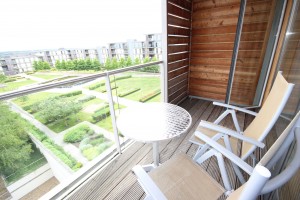 Less than an hour's commute from Central London, and with easy access to Birmingham and Cambridge city centres, Milton Keynes is a popular destination for business travellers. Our Vizion South Apartments are an obvious choice, offering contemporary accommodation in fully serviced, well-appointed, modern developments. Milton Keynes has excellent retail and leisure facilities, as well as plenty of international restaurants, trendy bars, and a host of public parks and green spaces. Each spacious apartment is fully furnished to an excellent standard, and provides a home away from home with everything you need to relax after a long day at the office, or to work from home. Most of the apartments also have the added benefit of a private balcony.
Bannermill Beach Apartments, Aberdeen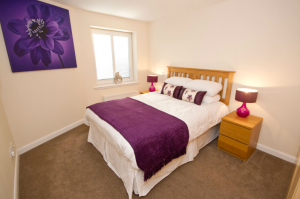 There's no better way of enjoying the beautiful views over Aberdeen Bay than from the comfort of your own, private apartment. The Bannermill Beach Apartments are a stone's throw away from the Esplanade, which looks out to the North Sea, and are conveniently close to all local amenities. The 'Granite City' centre is a short drive away, as are the main train station, Union Square Shopping Centre, and a host of world-class art galleries and museums. The apartments offer spacious, open-plan living areas, with fully-fitted kitchens that are equipped with everything you'll need for your stay. Each bedroom is immaculately furnished and has luxurious bed linens and ample storage space. On-site parking means you have one less thing to worry about.
Gunwharf Quays Apartments, Portsmouth
Located in the centre of the South coast, Portsmouth is a dynamic waterfront city with a proud maritime heritage, and is the UK's only island city. From world-class museums and galleries, a host of attractions, award-winning dining experiences, to fantastic shopping destinations, this vibrant city has something for everyone. Its nightlife, live music venues, and numerous festivals give Portsmouth a year-round buzz. The Gunwharf Quays Apartments are in the heart of it all, just a short walk away from the harbour, boasting a multitude of restaurants, bars, high-street shops, and leisure facilities. Each modern apartment has floor-to-ceiling windows that maximise natural light, while the open-plan living and dining spaces are perfect for unwinding or working at your own leisure.
Derwent Street Apartments, Manchester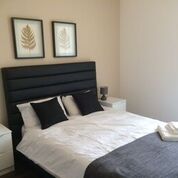 Coined the 'Capital of the North', Manchester is a cosmopolitan hub of culture with influential arts, music, and sporting scenes, as well as a selection of world-class museums and art galleries. The Derwent Street Apartments are perfectly positioned between Salford and Central Manchester, so you can take full advantage of all that the city has to offer. The river is a moment's walk away, and leads to Deansgate and Manchester Oxford Road. To the West, MediaCityUK can be reached within minutes. The apartments are newly refurbished to a high specification, and are set in a modern, gated development. Each apartment has stylish interiors with wooden flooring throughout, and has everything you need to feel at home in the city.
Triangle Hill Apartments, Cambridge
A world-famous university town, Cambridge is a centre for education, the arts, heritage, and culture. The picturesque city sits on the River Cam and is characterised by beautiful architecture, cobbled streets, and the buzz of the market square. As a major centre of international research, Cambridge is a popular destination for business travellers, who can pass their free time exploring all that the city has to offer, from exclusive boutiques, to independent museums and galleries, and award-winning restaurants and pubs. The Triangle Hill Apartments are spacious, fully furnished to an excellent standard, and boast large, balconies with outdoor dining furniture. With the added bonus of secure, on-site parking, weekly housekeeping, and wifi access, Triangle Hill is ideal for extended stays in Cambridge.
Arc Apartments, Birmingham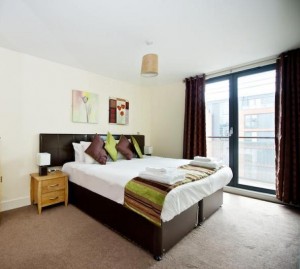 Birmingham is the UK's largest city outside of London and is a major centre for education, the transport, retail, and events industries, as well as being an important conference hub, and therefore ranks highly as a destination for business travellers. The vibrant, international metropolis is home to some of the country's major cultural institutions, and boasts a wealth of landmarks, cultural centres, and heritage sites. The Arc Apartments are in a prime location, just a moment's walk from Birmingham New Street station and close to the city's best shopping destinations. From a 24-hour reception, to on-site parking, free WiFi, and Sky TV, the apartments have all your needs covered for long stays away from base.
Grove Executive Apartments, Edinburgh

The Scottish capital is a city to remember. Edinburgh's rich heritage is reflected in the city's beautiful architecture and cobbled streets, which are transformed into open-air stage during the world-famous, annual Festival Fringe. As well as being home to some of the country's major museums, art galleries, and heritage centres, Edinburgh has an unrivalled choice of high-street shopping centres, independent boutiques, and designer shops. The Grove Executive Apartments are located in Edinburgh's fashionable West End, close to Princes Street. They are housed in a stunningly refurbished period property, with contemporary, bright interiors that offer you a fully furnished, fully equipped, home away from home.