National Curry Week: The UK's Best Curry Houses
Over 200 years ago, the first dedicated Indian restaurant opened its doors in an upmarket London square. Since then, the curry house has become something of a national treasure, catering to the nation's taste for food with a bit of bite. More recently, the growing fascination with street food has seen fashionable eateries and reclaimed trailer trucks crop up across the country, offering exciting reinventions of all the old classics, and authentic, lesser-known dishes. In the spirit of National Curry Week, we've compiled a list of some of the best pickings in the UK.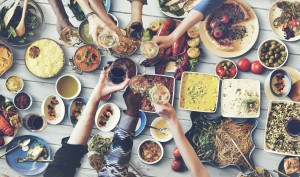 Liverpool
Mowgli Street Food, Bold Street
Located on Liverpool's fashionable Bold Street, home to an eclectic selection of the city's most exciting, new, independent eateries, the team at Mowgli have got Indian street food down to a fine – and fun – art. Their menu, comprising tantalising small, tapas-style plates and flavourful mains, is reasonably priced and caters to every taste – so much so that their second restaurant will shortly be opening in Liverpool's business district.
69 Bold St, Liverpool L1 4EZ – www.mowglistreetfood.com

Manchester 
Indian Tiffin Room
Drawing inspiration from the vibrant street food scene of India, the menu at Indian Tiffin Room reflects a commitment to authenticity, fresh ingredients, and variety. Making a break from the standard British curry house, the restaurant firmly places substance ahead of style; its décor is unassuming, while its dishes are enticing and adventurous. South Indian Tiffin are the cornerstone of the menu, with a wide selection of dosas (Indian pancakes), vadas (savoury doughnuts), and idli (savoury cakes/dumplings) proving to be a hit with Manchester punters.
2 Isabella Banks Street, First Street, Manchester, M15 4RL – www.indiantiffinroom.com/manchester-restaurant
Mughli
An established, firm favourite on Manchester's famous Curry Mile, Mughli has a loyal following – a testament to the restaurants commitment to serving quality, fresh favourites, without shying away from innovation. As well as marinated meats, chargrilled on the angithi charcoal pit or roasted in the traditional tandoori, Mughli offers a tempting selection of small plates and street-food favourites, such as generously-filled kati rolls and chaat.
30 Wilmslow Rd, Manchester M14 5TQ – www.mughli.com

Birmingham

Lasan
The undisputed heartland of Indian cuisine in Britain, Birmingham is home to some of the country's best Indian restaurants, and Lasan is perhaps one of the city's finest. Reflecting Birmingham's rich Indian food tradition, Lasan has a commitment to using fresh, homegrown produce to create exquisite, carefully thought-out dishes and platters. From free-range meat and fish dishes with mouth-watering marinades, to flavourful vegetarian platters, Lasan is a dining experience not to be missed.
3-4, Dakota Buildings, James St, St Paul's Square, Birmingham B3 1SD – www.lasan.co.uk
Raja Monkey
In keeping with the recent trend of street food inspired restaurants with reclaimed, upcycled furniture and industrial light fittings, Raja Monkey is a real crowd-pleaser, and it's not difficult to see why. Besides its lively ambience, Raja Monkey delivers on taste, covering all bases. From the classic curries and biryanis, to its famous dosas and the authentic, flavoursome thali meals, comprising a selection of small dishes, Raja Monkey is perfect for a relaxed evening with friends.
1355 Stratford Rd, Birmingham B28 9HW – www.rajamonkey.co.uk

Newcastle
Dabbawal, Jesmond
Located in the upmarket neighbourhood of Jesmond, surrounded by trendy cocktail bars and smart eateries, Dabbawal offers a vibrant dining experience with an atmosphere to match. Its varied menu offers a selection of well-executed meat, fish, and vegetarian dishes, as well as street-food inspired treats, such as the Punjabi Chicken Lollipop, and the Bombay Bomb – crisp, stuffed, mini puris. Dabbawal's outdoor veranda, complete with Indian street lights, bamboo borders, and corrugated iron, is the perfect spot for summer barbecues and winter nights.
1 Brentwood Ave, Newcastle upon Tyne, Jesmond NE2 3DH – www.dabbawal.com

London
Tamarind
As one of the first Indian restaurants in the world to be awarded a Michelin star, Tamarind is a Mayfair institution with a reputation for its warm service. Combining authentic flavours with a contemporary twist, the menu is inspired by the Moghul cuisine of North West India, and the fish, meat, and game are all cooked in a traditional tandoor oven. Tamarind offers a taste of India's vibrant cuisine in a lively, elegant setting.
20 Queen St, London W1J 5PR – www.tamarindrestaurant.com
Edinburgh
Kalpna
Having served fresh, vegetarian food to the people of Edinburgh for over twenty years, the team behind Kalpna know a thing or two about Indian cuisine. Specialising in Punjabi, Gujurati, and South Indian food, all prepared using locally sourced ingredients, Kalpna offers both much-loved, traditional dishes, like the Daal Tarka and Dam Aloo Kashmeri, as well as more innovative dishes that reflect modern Indian cooking, such as stuffed Dosa, or the Saam Savera – fresh spinach stuffed with homemade cheese, flavoured with saffron and ginger. Prices are very reasonable, and the atmosphere relaxed.
2-3 St Patrick Square, Edinburgh EH8 9EZ – www.kalpnarestaurant.com