Top 10: Serviced Apartments for Solo Travellers
At Serviced City Pads, we understand your individual accommodation requirements, and strive to deliver a bespoke booking service. When you're travelling solo, whether for work, leisure, or relocation, your accommodation should offer a home away from home, with all the space, privacy, and security you need. We've trawled through our portfolio of serviced apartments and shortlisted our recommendations for solo travellers.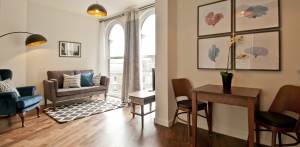 The Sussex Gardens Studio Apartments are the perfect base for your stay in the capital. Paddington Station is five minutes' walk away, connecting you to national rail services as well as London's transport network. A 24-hour reception means you'll always have staff on-hand to help, while your own Freeview TV, WiFi access, and on-site laundry room means you can enjoy the freedom of independent living. In your downtime, why not take a stroll to nearby Hyde Park, or wander down the iconic Bond Street?
When it comes to location, the London Bridge Studio Apartments take some beating. Set in the heart of the City of London, surrounded by some of the capital's most iconic attractions, you'll be able to experience an authentic, cosmopolitan lifestyle. The 24-hour concierge service means you can check-in to your fully serviced accommodation at your own leisure, and with an on-site gym, secure underground parking, and a supermarket nearby, you'll have everything you need on your doorstep. Kick back in your exclusive, open-plan living area, with its high-spec home entertainment system, and admire the breath-taking views of The Shard, London Bridge, and the London Eye.
Make the most of your next trip to Scotland's historic capital and enjoy the luxury of the Hanover Street Studio Apartments, located in the heart of the city. With a secure entry system, a 24-hour on-call guest services contact, and an on-site reception, you can rest assured that everything is taken care of. Enjoy all the flexibility and independence of your own private apartment, as well as the added luxury of serviced accommodation; the Hanover Street Apartments offer a grocery shopping and delivery service, a laundry and dry-cleaning service, as well as weekly housekeeping.
If you're planning a trip to the capital of the North, the Princess Street Grande Studio Apartments are the ideal option. As well as having an unrivalled city-centre location, close to some of Manchester's world-class shopping destinations, sports and music venues, and major attractions, the fully serviced apartments are exquisitely designed, and offer a taste of luxury during your trip. Enjoy a relaxing night's sleep in the deluxe, pocket-sprung, memory foam beds, and unwind in front of your own HD TV. With designer kitchens, free high-speed WiFi, and en-suite rain showers, you'll never want to leave!
The Gunwharf Quays Studio Apartments are a perfect hotel alternative for solo travellers in Portsmouth. The property is located in a residential neighbourhood, and has secure, on-site parking, giving you one less thing to worry about. Your exclusive, home-from-home can be cleaned three days a week – this is a flexible service that you can discuss with your personal housekeeper. As well as being within five minutes' walking distance of public transport services, you can wander round the historic dockyard, and take advantage of having some of Portsmouth's best entertainment venues, leisure facilities, and attractions on your doorstep.
If you're looking for quality accommodation in London that offers a sanctuary from the hustle and bustle of the city, the Fulham Road Studio Apartments are the ideal choice. Situated close to the high street, these serviced apartments are a stone's throw away from Fulham Palace and the River Thames towpath. The property has recently been re-opened, having undergone a full refurbishment. You can relax in the privacy of your own stylish apartment, complete with beautiful, contemporary furnishings, free WiFi access, and a state of the art entertainment system. The self-check-in service means you can come and go as you please.
Set in an exclusive property, the City Tower 1 Bedroom Apartments offer the ultimate self-catering accommodation in Reading's vibrant city centre. You will be well connected to the capital via nearby road and rail routes. The apartments have a straightforward self-check-in service, on-site parking, and are fully-equipped for flexible living. Make the most of your very own spacious apartment, and unwind in front of your flat-screen HD Sky TV.
Our Martineau Place Apartments have everything the solo traveller could possibly need, and more. They property is easily reached on foot from Moor Street, New Street, and Snow Hill stations, and are a truly luxurious hotel alternative in the heart of Birmingham's cosmopolitan city centre. A 24-hour reception means you can come and go as you please, and the on-site pantry is open 24 hours a day to make life easier. From a same-day dry-cleaning service, daily housekeeping service, on-site fitness centre, and inclusive breakfast buffet, everything is taken care of.
If you're planning a solo trip to Dublin, our Augustine 1 Bedroom Apartments tick all the boxes. The property overlooks the iconic Christ Church Cathedral and is a short walk away from the popular Temple Bar district, where you can explore independent galleries, boutique shops, as well as some of Dublin's main attractions. There is a 24-hour reception, granting round-the-clock assistance, and on-site parking means you have one less thing to worry about. Make the most of your fully serviced, exclusive accommodation, which includes free WiFi access and a weekly housekeeping service.
When you stay at our Glassford Apartments, you'll have everything you need on your doorstep; Glasgow's transport network, nightlife, restaurants, and cultural hotspots are all located within walking distance. Your well-appointed, beautifully designed suite provides the ultimate home away from home, with fully-equipped kitchens, high-specification entertainment systems, and a daily housekeeping service. From a grocery shopping and delivery service to a laundry and dry-cleaning service, you can rest assured that everything is taken care of.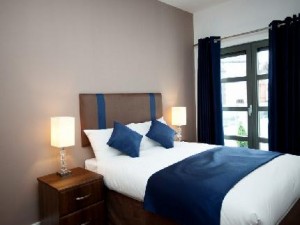 For more information on our serviced apartments or travel management services, call our team on 0844 335 8866, or email info@servicedcitypads.com